Government accused of suppressing Brexit document as FF and FG trade barbs on Twitter Minister for Foreign Affairs Simon Coveney and Fi...
Government accused of suppressing Brexit document as FF and FG trade barbs on Twitter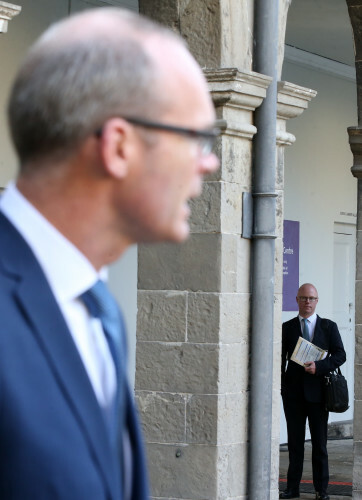 Minister for Foreign Affairs Simon Coveney and Fianna Fail spokesperson on Brexit Stephen Donnelly.
ACCUSATIONS THAT THE government suppressed a Brexit document by the Revenue Commissioners resulted in a war of words breaking out between Fine Gael and Fianna Fáil on Twitter today.
The leaked report, which RTÉ has seen, finds an open customs border would be impossible after Brexit.
The report, which remains unpublished, was drafted by a small unit set up within Revenue a year before the Brexit referendum.
TheJournal.ie reported in June last year, prior to the British referendum, that Revenue was exploring the impacts on Ireland's customs arrangements with the UK post-Brexit.
Following the referendum re sult, the team worked to find possible technological solutions to the border problem.
This was referred to by the former Finance Minister Michael Noonan, who outlined that Revenue was investigating how border crossings could be "frictionless". The agency, he said, was looking at how some other countries, such as Norway, controlled border crossings.
However, it's reported that work stopped abruptly when the government told Revenue to halt their investigations for fear that by carrying out such due diligence Ireland was doing the work for the British.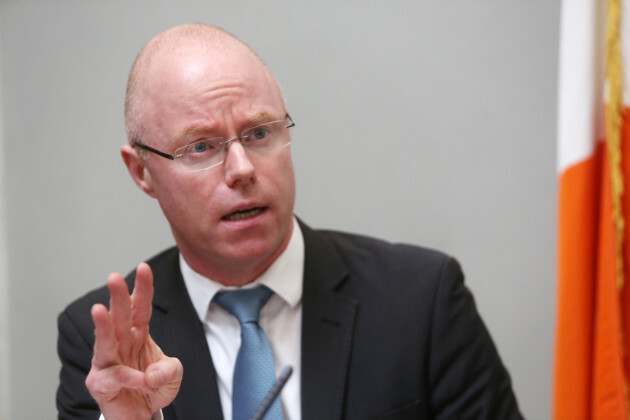 Fianna Fáil Brexit spokesperson Stephen Donnelly.
Today, Fianna Fáil Spokesperson on Brexit Stephen Donnelly said the leaked report had shown that there are elements within the government more interested in playing party politics than in working on a cross-party basis to prepare Ireland for B rexit.
"The leaking of this report today shows that there are some within government who are unwilling to share critical pieces of analyses with the Oireachtas at a time when the risks to our country's future economic prosperity have never been so grave.
"My colleagues and I have consistently requested, from a variety of government departments, to see reports of this nature, and we have been stonewalled."
Speaking on RTÉ's Morning Ireland, Donnelly said the report is "the most important part" of analysis by the State on Brexit.
"It turns out that the government has been suppressing what I believe is the most important part of analysis by the State that we've seen. And I think it is being very cavalier with the futures of the men and women who work in those 91,000 companies [who trade with the UK].
"The government needs to publish this report immediately," said Donnelly. Labour leader Brendan Howlin and Sinn Féin's David C ullinane have also called for the publication of the report.
Donnelly's radio appearance resulted in the Foreign Affairs Minister Simon Coveney hitting back at Donnelly on Twitter, accusing him of trying to make the Brexit negotiations "party political".
Replying to the minister, Donnelly said the government had been caught "red-handed" suppressing essential analysis. He said this was particularly disappointing due to the government calling on all parties to "work openly with them".
He concluded his tweet: "You've some nerve."
Interestingly in the same thread, the former spokesperson and press secretary for Tony Blair Alastair Campbell asked Coveney to follow him so he could send him a direct message. What he had to say to the minister is unknown.
Taoiseach Leo Varadkar also weighed in on the issue today, reiterating his point that a customs border with the North would be a barrier to trade and peace.
Criticising Varadk ar's decision to stop the work of the Revenue Commissioners, Donnelly said:
"It's clear, on the basis of this report, that the Taoiseach's political decision upon assuming office to instruct the Revenue Commissioners to desist from any customs' contingency planning in the event of a hard Brexit was short-sighted and potentially highly detrimental to Irish interests, both North and South."
Fine Gael senator Neale Richmond called Donnelly's "faux outrage" on the issue an attempt "to make something more" of the report, adding that his behaviour is "counterproductive and unwise".
Read: Irish employers to back 'comprehensive gender pay reporting'>
Read: There may be trouble ahead: A look back to the Budget of a decade ago>
Source:
Google News