Donald Trump recognises Jerusalem as capital of Israel


US President Donald Trump has reversed decades of US policy and recognised Jerusalem as the capital of Israel.
The move comes despite warnings from around the world that the gesture further drives a wedge between Israel and the Palestinians.
In a speech at the White House, Mr Trump said his administration would also begin a process of moving the US embassy in Tel Aviv to Jerusalem, which is expected to take years.
He also said that the announcement marked the beginning of a new approach to the Israeli-Palestinian conflict.
The status of Jerusalem - home to sites holy to the Muslim, Jewish and Christian religions - has been one of the thorniest issues in long-running Middle East peace efforts.
US President Donald Trump has reversed decades of US policy and recognised Jerusalem as the capital of Israel - Read more: https://t.co/a9ovn3BVW3 pic.twitter.com/J 2xySKffOr

â€" RTÉ News (@rtenews) December 6, 2017
Israel considers the city its eternal and indivisible capital and wants all embassies based there.
Palestinians want the capital of an independent Palestinian state to be in the city's eastern sector, which Israel captured in the 1967 Middle East war and annexed in a move never recognised internationally.
Israeli Prime Minister Benjamin Netanyahu has hailed the decision by Mr Trump as an "historic landmark".
In a pre-recorded video message, he said that any peace deal with the Palestinians must include Jerusalem as Israel's capital and he urged other countries to follow the US lead by also moving their embassies to the city.
Hamas, the Palestinian group that has run Gaza since 2007, has said that Mr Trump's decision would "open the gates of hell" on US interests in the region.
"This decision will open the gates of hell on US interests in the region," an official with the Palestinian Islamist movement, told journalists after the announcement.
He called on Arab and Islamic states to "cut off economic and political ties with the US embassy and expel American ambassadors to cripple" this decision.
Read: US to move its embassy from Tel Aviv to Jerusalem â€" what does it mean?
Mr Trump's decision is likely to please his core supporters - Republican conservatives and evangelical Christians who comprise an important share of his political base.
His aides contend the move reflects the reality of Jerusalem as the center of Jewish faith and the fact that the city is the seat of the Israeli government.
The US President called his decision a "a long overdue" step to advance the peace process.
He said: "I have determined that it is time to officially recognise Jerusalem as the capital of Israel.
"While previous presidents have made this a major campaign promise, they failed to deliver. Today, I am delivering."
Mr Trump acted under a 1995 law that requires the United States to move its embassy to Jerusalem.
His predecessors, Bill Clinton, George W Bush and Barack Obama, had consistently put off that decision to avoid inflaming tensions in the Middle East.
A Palestinian envoy said the decision by Mr Trump was a declaration of war in the Middle East.
'No alternative to two-state solution in Middle East' - Guterres
United Nations Secretary-General Antonio Guterres has said that there was no alternative to a two-state solution between Israel and the Palestinians.
He also said that Jerusalem was a final-status issue that should be resolved through direct talks.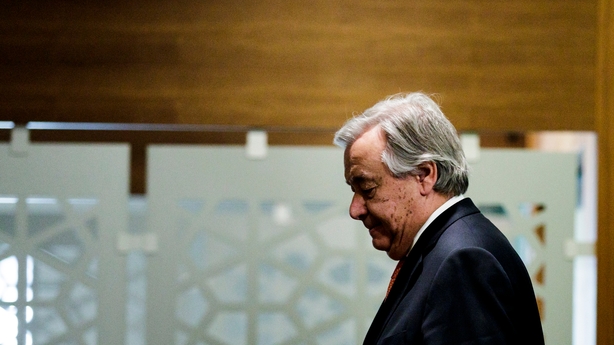 Mr Guterres told reporters: "I have consistently spoken out against any unilateral measures that would jeo pardise the prospect of peace for Israelis and Palestinians.
"In this moment of great anxiety, I want to make it clear: There is no alternative to the two-state solution. There is no Plan B.
"I will do everything in my power to support the Israeli and Palestinian leaders to return to meaningful negotiations."
Pope Francis called for Jerusalem's status quo to be respected, saying new tension would further inflame world conflicts.
China and Russia expressed concern the plans could aggravate Middle East hostilities.
Anticipating widespread demonstrations, US government officials have been ordered to avoid Jerusalem's Old City and the West Bank.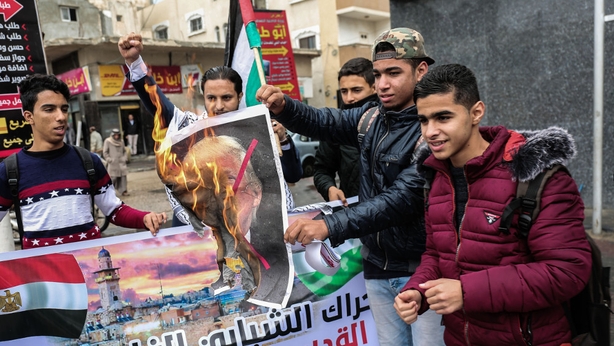 Minister for Foreign Affairs Simon Coveney has said it would be a "step backwards" if Mr Trump accepted Jerusalem as the Israeli capital.
Speaking in the Dáil, he said he had contacted the US Embassy in Dublin yesterday when news of the possible move emerged.
He said he expressed in very clear terms that it would be very unhelpful if the US President was to make the decision.
Minister Coveney made his comments in reply to Sinn Féin President Gerry Adams, who asked him would he urge the US President not to take the "provocative decision",
Mr Coveney had earlier tweeted his concern on the move, saying that recognising Jerusalem as the capital will "make progress in Middle East peace process more difficult".
British Prime Minister Theresa May said she will be calling Mr Trump about his plan.
"I'm intending to speak to President Trump about this matter," Mrs May told the House of Commons.
"Our position has not changed. The status of Jerusalem should be determined as a negotiated settlement between the Israelis and the Palestinians and Jerusalem should be a shared capital," she said.
Britain's Foreign Secretary Boris Johnson also said he was concerned about the reported move.
Source:
Google News