Easter Rising: Moore Street sites 'not 1916 battlefields'

]]> Europe Europe Easter Rising: Moore Street sites 'not 1916 battlefields'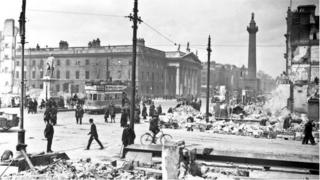 A decision by the Irish High Court that sites and buildings on and around Moore Street in Dublin are 1916 Easter Rising battlefields has been overturned.
An appeal against the original ruling was taken by the Irish government, RTÉ reports.
The Court of Appeal ruled that the High Court did not have the jurisdiction to grant those declarations.
Members of the 1916 Residents Association were in court for the ruling.
What was the Easter Rising
Easter Rising 1916 commemorations in pictures
In March 2016, a judge granted orders preventing works to the buildings and locations at issue after declaring they constituted a national monument.
The orders also applied to a terrace of buildings at 14-17 Moore Street, where the 1916 leaders met for the final time and decided to surrender.
The minister had argued it was adequate to protect only this terrace where it is intended to establish a 1916 Rising Commemorative Centre.
'Extremely complex'
Chartered Land, since replaced by DCLP, was subsequently joined as a notice party.
In a statement, the 1916 Relatives Association thanked Colm Moore for taking the case, which is aimed at preserving the Moore Street site.
The group said the case was "an important element in the overall campaign to preserve, regenerate, enhance and redefine this iconic and historical quarter of Dublin".
John Hennessy, solicitor for Mr Moore, said he would study the ruling before making a decision on whether or not to appeal to the Supreme Court.
The chairperson of the 1916 Relatives Association said that he was disappointed with today's judgement.
Responding to the ruling, Minister for Culture, Heritage a nd the Gaeltacht Josepha Madigan said: "This was an extremely complex and wide-reaching case and I will study the judgment in detail with my officials to see what the full effect of it is.
"The preservation of the State-owned national monument building at 14-17 Moore Street - the final headquarters of the 1916 leaders - and opening them to the public, remains the top priority and will obviously be the major influence over our thinking."
Top Stories
Trump lawyer admits paying porn star
A private payment was made to Stormy Daniels, who once claimed to have had an affair with Donald Trump.
14 February 2018
Several injured as gunfire erupts at NSA
14 February 2018
SA's Zuma defies 'unfair' calls to quit
14 February 2018
Features
'Guns and survivalists, but no school until I was 17'
Fire destroys Haiti's historic market
Japan's worries about the Korean detente
They were meant to protect the public, but instead they robbed them
Video
'This could be your chance to get rich'
We hear from multi-level marketing, or MLM success stories, as well as women who say they've lost thousands of pounds.
Women's bare arms on TV 'demeaning'
Kim Campbell says female newscasters who show bare arms on television "undermine credibility".
Israel's dilemma over 'magician' Netanyahu
Why do people like Chloe Kim get 'hangry'?
Video
Rescuer pulls own mother from wreckage
Why you can trust BBC News
BBC News Services

On your mobile
On your connected tv
Get news alerts
Contact BBC News

Source: Google News