No new attacks planned against Syria for now, says UK


Western powers will study "options" if Syria's government again uses chemical weapons, but nothing is planned as yet, Britain's foreign minister has said.
Boris Johnson made the comments following raids on Syrian targets, which triggered a heated debate over their legality and effectiveness.
US, French and British missile attacks struck at the heart of Syria's chemical weapons programme yesterday, in retaliation for a suspected poison gas attack a week ago.
However, the restrained assault appeared unlikely to halt Syrian President Bashar al-Assad's progress in the seven-year-old civil war.
The bombing, denounced by Damascus and its allies as an illegal act of aggression, was the biggest intervention by Western countries against Assad and his powerful ally Russia.
But the three countries said the strikes were limited to Syria's chemic al weapons capabilities and not aimed at toppling Assad or intervening in the civil war.
Speaking on BBC's Andrew Marr show, Mr Johnson threw his weight behind Prime Minister Theresa May's decision to take part in the attack, saying it was the right thing to do to deter further use of chemical weapons.
"There is no proposal on the table at the moment for further attacks because so far - thank heavens - the Assad regime have not been so foolish as to launch another chemical weapons attack.
"If and when such a thing were to happen, then clearly with allies we would study what the options were."
His comments appeared in line with those of US ambassador to the United Nations, Nikki Haley, who said at an emergency meeting of the UN Security Council that President Donald Trump told her that if Syria uses poisonous gas again, "The United States is locked and loaded."
The Western countries said the strikes were aimed at prev enting more Syrian chemical weapons attacks after a suspected poison gas attack in Douma on 7 April killed up to 75 people.
They blame Assad's government for the attack.
However, British opposition leader Jeremy Corbyn said that the legal basis used to support the British role was debatable, adding that he would only support action backed by the United Nations Security Council.
In Damascus, Assad told a group of visiting Russian lawmakers that Western missile strikes on his country were an act of aggression, Russian news agencies reported.
The agencies quoted the lawmakers as saying Assad was in a "good mood" and had praised the Soviet-era air defence systems used by Syria to help to repel the Western attacks.
Assad accepted an invitation to visit the Siberian region of Khanty-Mansi in Russia. It was not clear when the visit would take place.
Mr Trump called the operation a success.
Allies launch UN bid for chemical weap ons investigation
The United States, France and Britain have launched a new bid at the United Nations to investigate chemical weapons attacks in Syria.
The three allies circulated a joint draft resolution at the UN Security Council that also calls for unimpeded deliveries of humanitarian aid, enforcing a ceasefire and demands that Syria engage in UN-led peace talks.
The move signaled the West's resolve to return to diplomacy after the air strikes on Syria.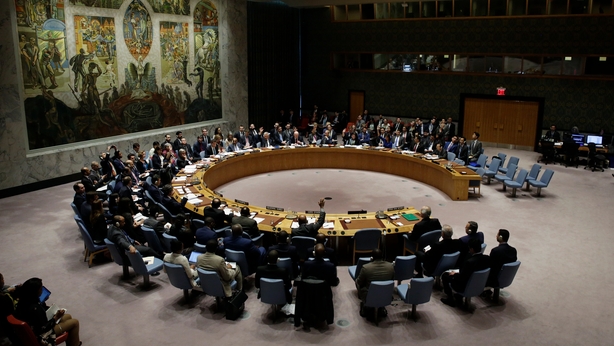 Among the contentious proposals, the draft resolution would establish an independent investigation of allegations of chemical attacks in Syria with the aim of identifying the perpetrators.
Russia in November used its veto three times to bury a previous UN-led inquiry which found that Syrian forces had used sarin in the attack on Khan Sheikhun in April last year.
US says air strikes cripple Syria chemical weapons programme
Russia fails in UN bid to condemn air strikes on Syria
Chemical weapons inspectors, how do they work?
The measure would instruct the Organisation for the Prohibition of Chemical Weapons (OPCW) to report within 30 days on whether Syria has fully disclosed its chemical weapons stockpile.
The West has accused Syria of failing to live up to its commitment to scrap its chemical weapons programme under a deal reached between the United States and Russia.
The Security Council held an emergency meeting yesterday at the request of Russia, which failed in a bid to condemn the air strikes.
Only China and Bolivia voted alongside Russia in favour of its draft resolution condemning the military action, while eight countries opposed it. Four countries abstained.
Chemical inspectors to begin work in Douma
Inspectors from the Organisation for the Prohibition of Chemical Weapons will begin their investigation later today at the site of the alleged chemical attack near Damascus, a senior official said.
"The fact-funding team arrived in Damascus on Saturday and is due to go to Douma on Sunday," Syrian Deputy Foreign Minister Ayman Soussan told AFP.
A delegation of experts from the OPCW, based in The Hague, is investigating the attack on Douma.
Western powers say chemical substances, most likely chlorine and sarin, were used in the attack and killed at least 40 civilians.
Mr Soussan reiterated a pledge by the Syrian government that the chemical experts would be allow to investigate unimpeded.
"We will ensure they can work professionally, objectively, impartially and free of any pressure," he said.
Source:
Google News