PSNI deputy chief constable to head Ireland's police force

Northern Ireland PSNI deputy chief constable to head Ireland's police force
Appointment of Drew Harris considered a dividend of Good Friday agreement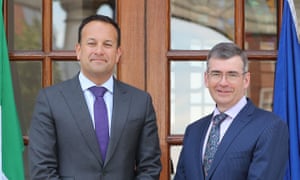 The deputy chief constable of the Police Service of Northern Ireland has been appointed to run the Republic's police force in an extraordinary cross-border job swi tch.
Drew Harris will take up his post as commissioner of the Garda Síochána in September after a 35-year career in policing in the UK, principally in Northern Ireland.
That a senior British officer could head up the Garda Síochána came as a surprise when announced on Tuesday, but is considered a dividend from the Good Friday agreement which brought both sides of the border closer together.
"This appointment can only serve to build on what is already a close working relationship between the PSNI and An Garda Síochána," said the PSNI chief constable, George Hamilton, who was among the first to congratulate Harris on his new job.
"The mutual desire of both organisations to keep people safe will support us in overcoming the many challenges we jointly face, including Brexit."
Harris, 53, started his career in the Royal Ulster Constabulary which was disbanded as part of the Good Friday agreement and replaced with by the PSNI.
That change was seen as a new beginning and a chance to build trust across the sectarian divide. The RUC was a regular target of the IRA, something Harris had direct experience of after his father was killed in 1989 by a car bomb.
It is understood that the Garda wanted to recruit someone from outside after a series of scandals rocked confidence in the Republic's police force.
"Drew takes up office at a time of major reform and investment which will redefine An Garda Síochána as an organisation," said Charlie Flanagan, Ireland's justice minister.
The vacancy was came about last September after the resignation of Nóirín O'Sullivan over her handling of scandals over whistleblowers and breathalyser tests.
Harris signed off the arrest of former Sinn Féin president Gerry Adams in 2014 in connection with the abduction of Jean McConville in 1972.
Topics
Police
Ireland
Europe
news
Share on Facebook
Share on Twitter
Share via Email
Share on LinkedIn
Share on Pinterest
Share on Google+
Share on WhatsApp
Share on Messenger
Source:
Google News Ireland
|
Netizen 24 Ireland