NI abortion reform: More than 170 politicians sign letter

UK Politics UK Politics NI abortion reform: More than 170 politicians sign letter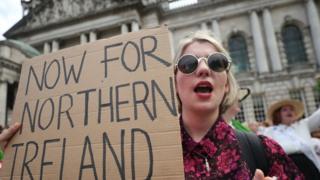 More t han 170 politicians from the UK and Ireland have signed a letter urging the UK government to reform Northern Ireland's abortion laws.
It is the only part of the UK where abortion is illegal unless there is a serious risk to a woman's health.
The letter, published in the Sunday Times, says ministers cannot continue to argue that it is a devolved matter.
It comes as figures suggest 28 women a week on average go to England from Northern Ireland for an abortion.
The unpublished data, obtained by Labour MP Stella Creasy from the British Pregnancy Advisory Service - a charity which provides abortions, suggests that 342 women made the journey between March and May this year.
Rise in NI women travelling for abortions
UK minister urges NI abortion law change
Theresa May stuck on NI abortion law
Attention has turned to Northern Ireland after the Republic of Ireland voted overwhelmingly in favour of ove rturning the country's abortion ban in May.
Unlike other parts of the UK, the 1967 Abortion Act does not extend to Northern Ireland and an abortion is allowed only if a woman's life is at risk or there is a serious or permanent risk to her mental health.
Rape, incest and fatal foetal abnormalities are not circumstances in which an abortion can be performed legally.
Last month a majority of Supreme Court judges said those restrictions were incompatible with the European Convention on Human Rights.
A United Nations Committee has also said women's rights are being breached.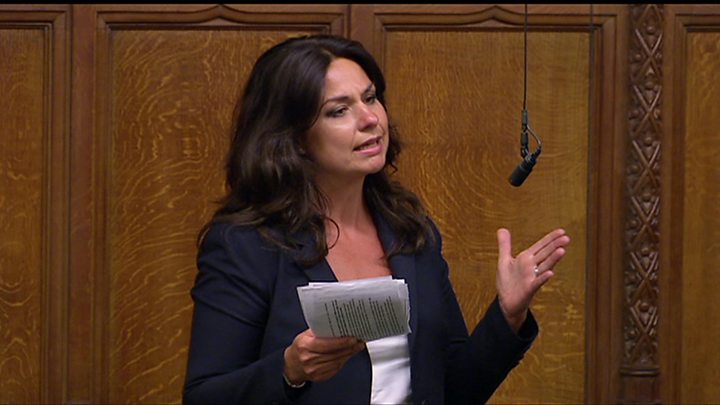 The cross-party letter to Prime Minister Theresa May and her Irish counterpart Leo Varadkar was coordin ated by Ms Creasy and signed by 173 parliamentarians from across the UK and Ireland. They include Labour's Harriet Harman and Conservative MP Sarah Wollaston, as well as Sinn Fein leader Mary Lou McDonald and the party's vice-president Michelle O'Neill.
It said the Good Friday Agreement was signed on the understanding that laws would be compliant and called for an "explicit legislative timetable" to be set out to decriminalise abortion in Northern Ireland.
It reads: "This is a critical step towards ending the treatment of women in Northern Ireland as second-class citizens."
Downing Street has so far said that the issue should be dealt with by the Northern Ireland Assembly, once devolution is restored.
The Democratic Unionist Party, on whom Mrs May relies for her parliamentary majority, opposes changes to abortion law in Northern Ireland.
The party says it is "pro-life" and has campaigned against any extension of abortion rights in Northern Ireland.
In June, the DUP's former health minister Simon Hamilton said he would welcome an evidence-based debate but stressed abortion was an issue for Stormont.
However, there has not been an executive at Stormont since the governing parties - the DUP and Sinn Fein - split over a bitter row 18 months ago. This means there are no ministers in place to approve any major decisions.
Figures from the UK Department of Health show that more than 900 women from Northern Ireland travelled to England for an abortion last year.
The number was an increase of more than 25% on the year before and followed a government announcement that women from Northern Ireland would be able to get free abortions in England.
Top Stories
Israel evacuates Syrian White Helmets
Hundreds of civil defence volunteers and family members are taken from a border war zone to Jordan.
22 July 2018
'Trade war a reality' - French minister
22 July 2018
LA police arrest suspect after shop siege
22 July 2018
Features
Mystery black sarcophagus opened in Egypt
Video
Would this 17-year-old get your vote?
Why Pakistan's election matters
Video
From locked-in syndrome to being a dad
China's mega-machines
Atlanta: 'Donald Glover creates his own lane'
A legendary 'mermaid' still swimming at 78
Why 'dangerous' drugs are still being used to treat pai n
Reality Check: Where language choice gets political
Elsewhere on the BBC
Football phrases
15 sayings from around the world
Full article Football phrases Why you can trust BBC News
BBC News Services
On your mobile
On your connected tv
Get news alerts
Contact BBC News
Source:
Google News Ireland
|
Netizen 24 Ireland