Transgender man's legal challenge to N Ireland Secretary

Northern Ireland Northern Ireland Transgender man's legal challenge to N Ireland Secretary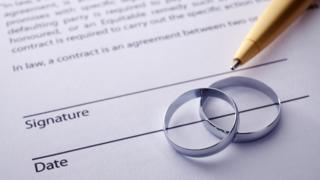 A transgender man has issued legal proceedings against the Northe rn Ireland secretary over his marriage certificate.
The man, who has been granted anonymity, wants to have his gender history removed from the certificate.
He married his partner after he officially changed his sex.
The High Court declared in 2016 that his rights to privacy were breached over a reference on the publically accessible marriage certificate.
The man's lawyers claim the political stalemate at Stormont means the Department of Finance cannot remove the gender reference.
Northern Ireland has been without a functioning government since January 2017, when a power-sharing deal between the DUP and Sinn Fein collapsed.
Stormont deadlock: Need-to-know guide
Power-sharing talks at Stormont collapse
Power sharing at Stormont unlikely to return soon
Ciaran Moynagh, the man's solicitor, said given the lack of a breakthrough , his client had no choice but to lodge proceedings against the D epartment of Finance and the Northern Ireland Secretary, Karen Bradley.
He said: "Since 2016, our client has waited for his amended marriage certificate, but it now seems that no one will remedy the breach and it continues indefinitely. This is unacceptable."
Mr Moynagh said his client wanted "his rights protected and respected in accordance with the initial judgement" and that there was an onus on Mrs Bradley and the British government to uphold its duties.
It is likely that a hearing to decide whether the man can be granted leave for a judicial review will not be held until the Autumn.
The Northern Ireland secretary is already facing another legal challenge from a victim of historical institutional abuse.
In April, the High Court granted a full judicial review of the Northern Ireland secretary and Executive Office's failure to implement a financial redress or compensation scheme.
The High Court ruled that the applicant, known only as JR80, had an arguable case.
"No time limit"
A lawyer representing JR80, argued that Mrs Bradley has a residual power to set up a scheme in the absence of a restoration of the devolved executive.
The barrister also argued that the she has disregarded her duty to call a fresh assembly election.
Lawyers acting for Karen Bradley contended that she has no residual power as the redress scheme recommended by Sir Anthony Hart is a matter for the Stormont Executive and that there is no time limit for the secretary of stat e calling an election.
Section 32.3 of the 1998 Good Friday Agreement Act states that the Northern Ireland secretary has a legal obligation to call another election if the posts of an Executive Minister are not filled within 14 days of the first meeting of an assembly following an election.
The last election in Northern Ireland was March 2017.
The two largest parties, the DUP and Sinn Fein, did not nominate ministers within the required 14 days, and civil servants have been taking some decisions in the absence of an executive.
Top Stories
North Korea attacks 'gangster-like' US
It brands the US stance "extremely troubling" after high-level talks on denuclearisation.
7 July 2018
'Four-day window' for Thai boys' rescue
7 July 2018
England beat Sweden to reach semi-finals
7 July 2018
Features
Video
The mayor who wants a 'sexy' police force
'You never imagine someone you know could get trapped'
Is this the US president most like Trump?
Letters of love from trapped Thai boys
Video
90s and now: Suburban San Francisco revisited
Tory tensions on Europe sti ll profound
The long list of Scott Pruitt controversies
How Libya holds the key to Europe's migration crisis
Video
Mower on a mission: Man's plan to help US
Elsewhere on the BBC
Football phrases
15 sayings from around the world
Full article Football phrases Why you can trust BBC News
BBC News Services
On your mobile
On your connected tv
Get news alerts
Contact BBC News
Source:
Google News Ireland
|
Netizen 24 Ireland