Varadkar says Ireland is stepping up plans for a no-deal Brexit

Brexit Varadkar says Ireland is stepping up plans for a no-deal Brexit
Politicians north and south of border turn on Sinn Féin for abstaining in Commons vote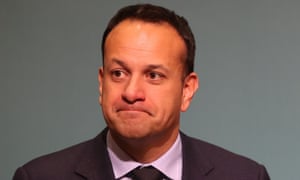 The Irish prime minister has said his government is stepping up preparations for a no-deal Brexit as politicians in the Republic and Northern Ireland turned on Sinn Féin for not taking up its seats in Westminster to help defeat the government on knife-edge trade and customs votes.
Leo Varadkar said the instability in Westminster meant there was no guarantee that a withdrawal agreement, even if agreed in Brussels, would get passed in London.
"We can't make assumptions that the withdrawal agreement will get through Westminster," he said.
"It's not evident, or not obvious, that the government of Britain has the majority for any form of Brexit, quite frankly. Because of this the government would step up plans for a "no-deal scenario".
His deputy, Simon Coveney, will brief the cabinet on Wednesday at a meeting in Kerry about contingency planning, including the recruitment of extra customs officer for ports and airports.
Coveney told RTE's Morning Ireland on Wednesday that the Brexiter amendments to the customs and trade bills were "unhelpful". There has been concern that an amendment guaranteeing that there would never be a border in the Irish Sea makes a backstop on a special deal for Northern Ireland impossible. Cov eney said he did not accept that the amendment made the backstop illegal.
The Irish plan comes as Michel Barnier, the EU's chief negotiator for Brexit, prepares to advise 27 member states at a council meeting on Friday to deepen contingency planning. A 15-page draft review of the white paper, seen by RTE, says the consequences of no deal "will be very real for citizens, professionals and business operators".
Separately, Sinn Féin has come under concerted attack north and south of the border by rivals who say its seven MPs could have defeated the Brexiter amendments had it abandoned its Westminster abstentionist policy.
"The refusal by Sinn Féin to take up its Westminster seats has plunged the British PM into the clutches of the hard Brexiteers again. Government wins knife-edge vote by wafer thin margin," tweeted Charlie Flanagan, the justice minister and a member of Varadkar's Fine Gael party.
Stephen Donnelly, the Brexit spokesman for Fianna Fáil, which is in a supply and confidence government with Fine Gael, also criticised the party.
Sinn Féin has operated an abstentionist plan for 100 years, standing for elections in Northern Ireland but not taking its seats. It has seven MPs, and rival politicians say it could have defeated the government this on the trade bill, which was passed by just six votes, and amendments to the customs bill, which were won by three and four votes.
"Hardline Brexiteers won last evening's Westminster vote because of Sinn Féin abstentionism," the Fianna Fáil leader, Micheál Martin, said.
In the referendum, Northern Ireland voted 56% in favour of staying in the European Union, but these constituents have no representation either in Westminster or Belfast, where power-sharing has not been restored 18 months after the collapse of the Stormont assembly. Sinn Féin has consistently defended abstentionism, saying it won its seats on the back of the policy.
At an event in Dublin on Tuesday, Flanagan said the situation at Westminster was on a "knife edge". The votes had placed "serious doubt" over the fate of the UK government's Brexit customs plan, he added.
"Votes are very tight," said Flanagan. "There are seven lawfully elected Sinn Féin MPs â€" they could tilt the balance in their favour if t hey wished. I acknowledge it is a long-held position of Sinn Féin, one of abstentionism. I am not a supporter of boycotts or abstaining. There may well be an opportunity now to reverse that on the part of Sinn Féin."
Colum Eastwood, the SDLP leader, tweeted: "To those who say Westminster doesn't matter â€" wake up. Our future is being torn apart by the British government. Abstentionism is not acceptable. Sinn Féin gift Theresa May a win over Brexit. SDLP MPs would have been there to stop Tories."
It is the first time in years that Sinn Féin's abstentionist policy has come under suc h a concerted attack; the health minister, Simon Harris, also criticised them for not using their chance to influence Brexit policy.
Topics
Ireland
Trade policy
Northern Ireland
Sinn Féin
Europe
news
Share on Facebook
Share on Twitter
Share via Email
Share on LinkedIn
Share on Pinterest
Share on Google+
Share on WhatsApp
Share on Messenger
Source:
Google News Ireland
|
Netizen 24 Ireland