Jubilant Monaghan make first All-Ireland SFC semi-final in 30 years



Monaghan are into their first All-Ireland semi-final in 30 years, beating Galway in Salthill to book top spot in Super 8s Group 1 and avoid Dublin in the last four.
The knock-on effect of this is that Kerry are out of the hunt for Sam Maguire and the Tribesmen must now face up to the four in-a-row chasing Dubs in the last four next Saturday.
Monaghan could have taken care of business against the Kingdom a fortnight ago, but a late David Clifford goal ensured that three teams went into the final day of group games with hopes of progressing.
Looking like a side hell bent on making amends for this slip, they dominated Galway, particularly in the second-half where their lead grew from two to eight points on the way to a double-score win.
They could even survive with 13 men, full-back Drew Wylie an d Colin Walshe walking shortly before the end of the game for second yellow card offences.
They were joined in stands in stoppage time by Galway captain Comer, who was also booked twice, and Galway finished with 13 too when Seán Kelly limped off with manager Kevin Walsh having used all of his substitutes.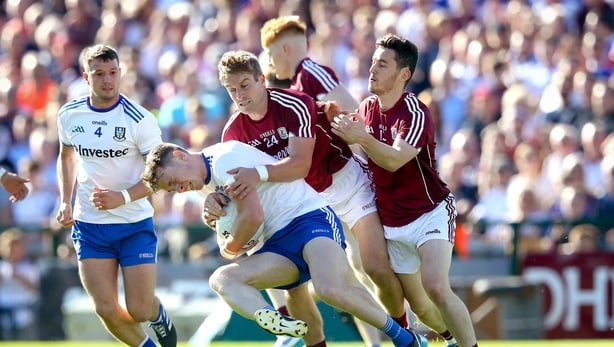 This was a bad day for the Tribesmen, who came into this game having only lost one in a competitive fixture this year - the League final defeat to the Dubs.
In the second-half when they were chasing the game, they showed no craft to work space and more often than not they ran up blind alleys and were turned over.
They only managed three points after the break and went nearly 30 minutes without raising a white flag.
The Connacht champions were already through to the semi-finals having won their opening two Super 8s game so perhaps they struggled for motivation.
But they w ay they rolled over, failing to think their way through any of the problems that Monaghan posed of them in front of a crowd of just over 15,000 made up of a huge proportion of travelling fans, should be a cause for concern.
The blue and white army made it feel like Clones-by-the-Sea and their supporters were on the pitch before the final whistle as they celebrated a place in the semi-finals for the first time since 1988. They will play either Donegal or Tyrone at Croke Park on Sunday, 12 August.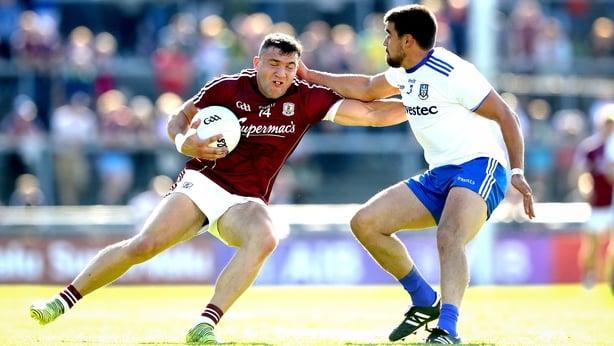 Galway skipper Comer won the toss before throw-in and elected to play with the significant Salthill breeze, though the home side failed to make it pay and went in trailing by 0-05 to 0-07 at the break.
Comer hit two uncharacteristic wides in that period, with free-taker Shane Walsh barely rising one from the ground in front of the target and putting it wide; symptoms of a flat first-half from the home team.
They were compact as always in defence and they turned Monaghan back on several occasions, but the visitors were able to find their way through, with Vinny Corey finding acres of space up the right wing in particular.
At one stage they stretched their lead to four points, Darren Hughes winning a Ruairí Lavelle kick-out following a converted Conor McManus free, and popping it to Ryan McAnespie, who sold a dummy solo before spinning the ball over the bar.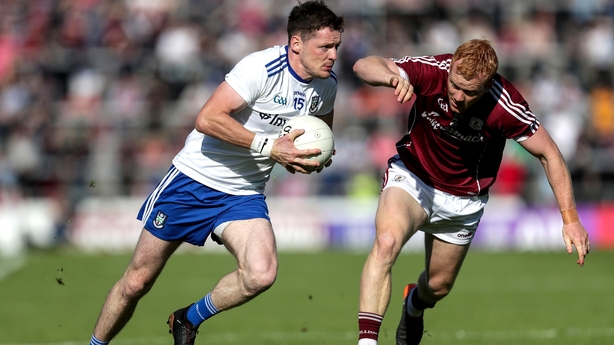 This was a real slow-burner, with much of the time spent with Monaghan moving the ball slowly forward and Galway, compact in defence, funnelling men back and across the field to block up space.
Enough of times though, the Ulster team were able to punch holes, with McAnespie, Corey and Walshe all able to make grounds and either set up or finish off opportunities.
One of their main attacking weapons was the ball out from the centre to the man coming on to it, transferred quickly to the supporting runner cutting in from the sideline.
McManus, as is almost always the case, was being pulled and dragged off the ball in front of goals.
At the other end of the field Monaghan full-back Wylie was booked for a similar offence on Comer just before the break and when the teams headed up the tunnel at the interval Farney County manager Malachy O'Rourke was straight onto he field to berate the officials.
McAnespie showed continued excellence after the break and goalkeeper Rory Beggan stroked over an incredible long-range free off the ground from nearly 60 metres out.
While everything went right for Monaghan, it was a complete systems failure for Galway and even with manager Walsh running the bench there was no turning this one around.
Scorers for Monaghan: Conor McManus 0-05 (0-04f) Ryan McAnespie 0-04; Darren Hughes 0-02; Fintan Kelly, Vinny Corey, Colin Walshe, Dermot Malone 0- 01 each, Rory Beggan 0-01 (1-01f)
Scorers for Galway: Shane Walsh 0-02 (0-02f) Eamonn Brannigan 0-02; Peter Cooke, Gary O'Donnell, Damien Comer, Ian Burke 0-01 each
Monaghan: Rory Beggan; Kieran Duffy, Drew Wylie, Ryan Wylie; Karl O'Connell, Colin Walsh, Vinny Corey; Niall Kearns, Darren Hughes; Fintan Kelly, Dermot Malone Ryan McAnespie; Conor McCarthy, Conor McManus, Shane Carey.
Subs: Jack McCarron for McCarthy 58 mins; Neil McAdam for Kearns 62 mins; Paudie McKenna for Carey 65 mins; Dessie Mone for O'Connell 67 mins.
Galway: Ruairí Lavelle; Declan Kyne, Seán Andy Ã" Ceallaigh, Eoghan Kerin; Cathal Sweeney, Gareth Bradshaw, Gary O'Donnell; Peter Cooke, Thomas Flynn; Eamonn Brannigan, Shane Walsh, Seán Kelly; Ian Burke, Damien Comer, Adrian Varley.
Subs: Patrick Sweeney for Varley 42 mins; Ciaran Duggan for Cooke 51 mins; Johnny Heaney for Ã" Ceallaigh 56 mins; Pádraic Cunningham for Brannigan 59 mins; David Wynne for Kerin 62 mins; Danny Cummins for Burke 67 mins.
Referee: Conor Lane (Cork)
Source:
Google News Ireland
|
Netizen 24 Ireland