Northern Ireland Assembly members' pay to be cut

Northern Ireland Assembly members' pay to be cut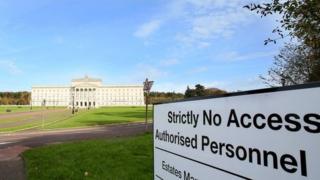 The Northern Ireland Secretary is to cut Stormont Assembly members' pay.
Northern Ireland has been without an executive since January 2017 after a bitter row between the governing parties, the DUP and Sinn Féin.
Karen Bradley has also ruled out calling a fresh Assembly election and she is to bring forward legislation to allow civil servants to make decisions in the absence of devolution.
MLA pay will fall in November from £49, 500 to £35,888.
The cut will happen in two stages. The first cut of £7,425 will be followed by a further reduction of £6,187 in three months' time.
Who's calling the shots on NI policy?
NI 'not eligible' for no government record
Stormont deadlock: Need-to-know guide
The pay cut was first suggested last December in a report written for the Northern Ireland Office by the former Assembly chief executive Trevor Reaney. He recommended a pay cut until a functioning executive is restored.
Ms Bradley made the announcement in the House of Commons.
She told MPs: "The reduction will take effect in two stages, commencing in November - it would not reduce the allowance for staff as I do not think that MLAs' staff should suffer because of the politicians' failure to form an Executive."
She also spoke about the issue of civil service decision making in the absence of an Executive.
The secretary of state told MPs: "I recognise that there is a need to provide reassurance and clarity to both the Northern Ireland Civil Service and the people of Northern Ireland on the mechanisms for the continued delivery of public services.
"So, the legislation I intend to introduce after the conference recess will also include provisions to give greater clarity and certainty to enable Northern Ireland departments to continue to take decisions in Northern Ireland in the public interest and to ensure the continued delivery of public services."
Discussions
The secretary of state also ruled out calling an election as she is required to do under current legislation.
She told MPs: "I have not believed and do not now believe that holding an election during this time of significant change and political uncertainty would be helpful or would increase the prospects of restoring the Executive."
She added: "I intend, therefore, to introduce primary legislation in October to set aside for a limited and prescribed period the legal requirement to propose a date for a further election."
Ms Bradley is to have discussions with the local parties and the Irish government in the weeks ahead about political talks aimed at restoring devolution.
In regarding political talks the secretary of state said she would also seek the parties' views "on when and how external facilitation" should be used.
'Unique position'
There have been a number of calls for an independent talks chairperson to be appointed.
Ms Bradley also said " a functioning North-South Ministerial Council is vital to ensure NI makes the most of its unique position within the UK and in relation to Ireland."
Northern Ireland has been without a functioning executive since January 2017.
MLA pay is to be cut because there is no devolution.
Source:
Google News Ireland
|
Netizen 24 Ireland