A hard Brexit means a hard border â€" whatever Owen Paterson says

Opinion Brexit A hard Brexit means a hard border â€" whatever Owen Paterson says Katy Hayward The former Northern Ireland secretary is being simplistic on cross-border trade and reckless with the peace agreement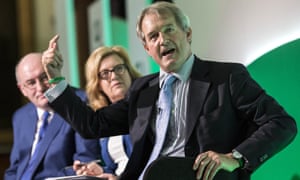 Owen Paterson, a former secretary of state for Northern Ireland, argued this week in the Guardian that the UK could leave the custom s union, break free from EU rules, and still avoid a hard border on the island of Ireland.
The problem with this claim is that the logic of a hard Brexit means hard borders. The EU is the world's most advanced legal, technical and institutional environment for seamless border management. As Brexiteers well know, this has entailed common rules and coordinated systems. Paterson's claims rest on the assumption that the UK can rip up the terms and conditions but stay in the club.
Brexit: are talks finally about to yield solution to Irish border impasse? Read more
This is seen in his assertion that the seamless management of the Irish border that already exists (such as for VAT, excise and security) can simply be extended after Brexit. This is wrong on two accounts. The first is that the "existing technical and administrative procedures" currently used to manage the Irish border (the VAT information exchange system and the European arrest warrant, for example) have been developed through EU membership. Leave the EU and access to these systems goes too.
This poses serious problems for cross-border security cooperation, which Paterson assumes can manage any post-Brexit increase in smuggling and fraud. The effectiveness of such cooperation today is underpinned by EU membership: a common institutional framework, real-time access to databases, agreed means of dispute settlement, and uniform application of the law. Because none of this can be presumed for a non-member-state, many of the mechanisms for joint security cooperation will be subject to negotiation post-Brexit.
Secondly, in the event of a UK-EU free trade agreement (even of the Canada+++ type many Brexiteers are pushing), the Irish border would become a customs and regulatory border. Technical and administrative procedures would not be sufficient to manage it. Whether they be at a checkpoint on the border or 20km away from it, the enforcement of controls would be necessary. Without them, there would be effectively no border, which would make for a very rickety customs union and single market.
In an effort to prove that border controls in the Irish case can be done through technical rather than rule-based means, Paterson points to the agrifood supply chains that constitute the largest proportion of cross-border trade. But technical solutions for agrifood products are the most obtrusive and resource-intensive of them all. They require trained inspectors, technical equipment (to test for pathogenic micro-organisms, for instance), and physical infrastructure (such as livestock holding pens). Indeed, for practical reasons, such border inspection posts in Northern Ireland are currently located away from the land border and at sea ports â€" proof that checks on goods crossing the Irish sea need be no impediment to the UK single market.
'An open Irish border has been so important for the development of its economy a nd the stability of its peace process'
Such facts are but petty irritation for the European Research Group of hard-Brexit Tory MPs. After all, Paterson shrugs: "Northern Ireland's sales to the Republic of Ireland account for less than 0.2% of the United Kingdom's GDP." But in generating its 2.1% of the UK's GDP, Northern Ireland currently relies on the Republic of Ireland as its largest export market (31% of its total goods exports in 2016). By making this point, Paterson actually underlines how relatively insignificant Northern Ireland is for the United Kingdom, and how different its economic needs are to those of the UK as a whole. To disregard the material interests of Northern Ireland in favour of an imagined ability (for the UK) to "strike new trade deals around the world" is hardly the mark of a committed unionist, as the DUP might do well to acknowledge.
The truth is that it is not possible to have a hard Brexit â€" in which the UK and EU move further apart â€" without Northern Ireland suffering collateral damage. This is because an open Irish border â€" or, more specifically, the close Northern Ireland/Ireland and British-Irish relationship â€" has been so important for the development of its economy and for the stability of its peace process.
The purpose of the backstop in the draft withdrawal agreement is to minimise the risk of such damage. It must relate to rules as well as procedures. It is not intended as a final destination: it is an insurance policy for the people of Northern Ireland and Ireland against the reckless consequences of a hard Brexit. Hence business leaders in Northern Ireland are urging the UK to accept a backstop, negotiate for a customs union and avoid the economic catastrophe of a no-deal exit.
Although a former Northern Ireland secretary, Paterson's intention is not to protect the interests of Northern Ireland but to downplay their importance in order to smooth the path towards a hard Brexit. For anyone concerned for the future of Northern Ireland, such a quest is as dangerous as it is erroneous.
• Katy Hayward is reader in sociology at Queen's University Belfast and author of Bordering on Brexit
Topics
Northern Ireland
European Union
Foreign policy
Owen Paterson
comment
Share on Facebook
Share on Twitter
Share via Email
Share on LinkedIn
Share on Pinterest
Share on Google+
Share on WhatsApp
Share on Messenger
Source:
Google News Ireland
|
Netizen 24 Ireland