Count begins to elect Irish president

Europe Europe Count set to begin to elect Irish president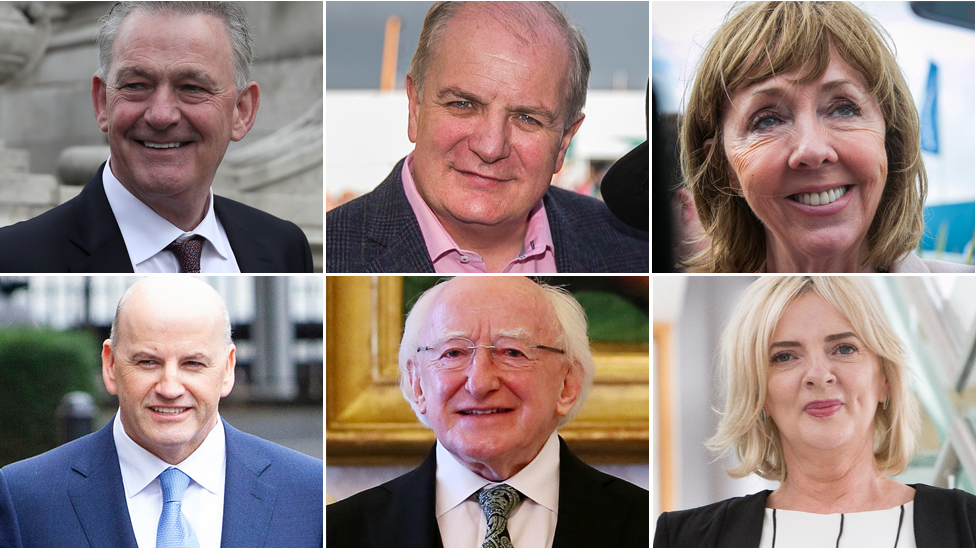 An exit poll has suggested the Republic of Ireland has voted to re-elect Michael D Higgins as president and scrap the country's laws on blasphemy.
The poll showed 71% of voters surveyed indicated they voted yes to removing the reference to blasphemy from the Irish Constitution.
It also suggested Mr Higgins received 58% of first preference votes.
Counting of ballots will begin at 09:00 BST.
The official result, expected on Saturday evening, will be announced at Dublin castle.
Mr Higgins is the first incumbent in 50 years to face a challenge in his bid for a second term.
The exit poll by Irish Broadcaster RTÉ, conducted by Red C, also said about 2% of people who voted in the presidential ballot said they had not voted in the blasphemy referendum.
Turnout was reported to be low in many areas of the country.
The figures suggest it could be comparable to the last Presidential Election in 2011.
More than 3.2m people are eligible to cast their ballots in the election and referendum.
Voters received two ballot papers at polling stations.
They were given a white ballot paper for the presidential election and a green ballot paper for the referendum on blasphemy.
Many were unaware there was such an offence until a member of the public referred controversial remarks made by the actor and writer Stephen Fry on an RTÉ programme to An Garda Siochana (Irish police).
Mr Fry spoke about what he regarded as God's cr uelty during the programme.
But the matter was dropped when gardai (police officers) could find no-one who was offended.
The last person to be prosecuted for blasphemy was in 1855 when the British ruled Ireland.
Presidential candidates
The president is Ireland's "first citizen", but has limited power - the role is mainly symbolic and he or she cannot get involved in daily politics.
In the presidential poll, Mr Higgins' rivals include:
Liadh Ni Riada, the Sinn Féin MEP
Senator Joan Freeman, a campaigner on mental health issues and the founder of the charity Pieta House
Sean Gallagher, a businessman who was the runner-up seven years ago
Gavin Duffy, a former broadcaster who now works as a businessman in the communications industry
Peter Casey, a Londonderry-born businessman and who made his fortune abroad
The three businessmen were all "dragons" in the Irish ver sion of the Dragons' Den TV programme.
About 3,470 people were interviewed for RTÉ's exit poll on a random basis outside 138 polling stations between 07:00 and 21.30 on Friday.
The poll suggests that businessman Peter Casey will get 20.7% of the first preference vote with Sinn Féin's Liadh Ní Riada getting 7.4%, with 6.3% for Senator Joan Freeman.
The poll suggests businessman Seán Gallagher is on 5.5% and businessman Gavin Duffy on 2.0%.
The exit poll's margin of error is between plus or minus 3%.
Polling stations opened at 07:00 local time and closed at 22:00.
Top Stories
Man charged over US mail bombings
Cesar Sayoc, who appears to be a Trump supporter, sent several mail bombs to critics of the president.
27 October 2018
Khashoggi fiancée snubs Trump invitation
27 October 2018
Mexico makes offer to caravan migrants
27 October 2018
Features
The murder that changed America
Who is mail bomb suspect Cesar Sayoc?
Now I have a new penis, I hope I will find love
Are supplements safe and do they work?
How do cosplayers make their money?
Your Brazil election guide in five charts
Merkel facing double trouble in German vote
Will the Khashoggi affair reshape the Middle East?
BBC Future: The best age to learn a language?
Elsewhere on the BBC
Football phrases
15 sayings from around the world
Full article Football phrases Why you can trust BBC News
BBC News Services
On your mobile
On your connected tv
Get news alerts
Contact BBC News
Source:
Google News Ireland
|
Netizen 24 Ireland