Fifth of Northern Ireland farm workers are EU migrants

Northern Ireland Northern Ireland Fifth of Northern Ireland farm employees are EU migrants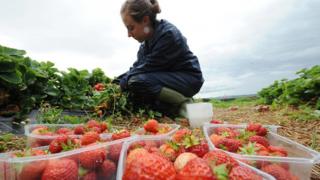 Almost a fifth of N orthern Ireland's paid farm employees are EU migrants, according to new official figures.
The research has been published by the Department of Agriculture.
It used the agricultural census to establish that the vast majority of NI's 49,000 farm workers were self-employed owners, business partners and spouses.
Of the about 7,000 paid employees just over 1,400 were migrant workers, almost all from the EU.
The department also surveyed 609 businesses and found that 65% had no migrant labour.
Brexit: EU migrants won't get special treatment, May says
EU migration: How has it changed the UK?
The detail of Cabinet discussion on post-Brexit immigration
Of those remaining, 13% had only non-seasonal migrant labour, 15% had only seasonal migrant labour, and 7% had both non-seasonal and seasonal migrant labour.
Migrant workers were concentrated in the horticulture sector - mushroom, fruit and ind oor flower growing.
Almost a quarter of all horticultural businesses in Northern Ireland employed migrant labour - accounting for almost 80% of workers on those farms.
Almost a third of total non-seasonal migrant workers were from Bulgaria, with 28% from Lithuania, 16% from Poland and 10% from Latvia.
More than half of the seasonal migrant workers were from Romania, with 17% cent from Bulgaria, 12% from Lithuania and 11% from Poland.
Among the businesses who employed migrant workers 66% described them as "very important".
Those who employ migrants were also ask ed how their business would adapt if a UK government placed significant restrictions on the recruitment of workers from EU countries.
The most common response (34%) was to reduce production followed by recruit more workers from the UK and Ireland (23%) and invest in labour-saving technology (18%).
The Prime Minister has promised that low-skilled migration will fall when the UK ends EU free movement access after Brexit.
Theresa May said high-skilled workers would be prioritised with no preferential treatment for people from the EU compared with those from the rest of the world.
'Alarm'
But she said a future trade deal with the EU could include an agreement on "mobility" of each other's workers.
Business groups have expressed alarm about a crackdown on low-skilled workers.
As it stands, EU freedom of movement allows people from the European Economic Area - all EU countries, as well as Norway, Iceland and Liechtenste in - plus Switzerland, to travel and work in the UK without visas, regardless of skills.
For the rest of the world, specific categories of visas are needed to come and work or study in the UK, including one for "skilled workers" - who usually have to earn at least £30,000 and have a job offer.
Top Stories
Indonesia tsunami deaths pass 1,300
Survivors in the city of Palu are growing increasingly desperate for food, fuel and water.
2 October 2018
How quake turned the ground into liquid
2 October 2018
Chinese ship forces US destroyer off course
2 October 2018
Features
Who is 'laser jock' Nobel winner Donna Strickland?
How commonly do drinkers suffer blackouts?
How Pal u suffered a 'worst case scenario' tsunami
The places America's rich and poor call home
Who gets what from 'new Nafta' deal?
The students who grew up to fear history repeating itself
Mystery of the 'blast-proof' material
Video
'People die because they don't have proper healthcare'
Gaza: Coding in a conflict zone
Elsewhere on the BBC
Football phrases
15 sayings from around the world
Full article Football phrases Why you can trust BBC News
BBC News Services
On your mobile
On your connected tv
Get news alerts
Contact BBC News
Source:
Google News Ireland
|
Netizen 24 Ireland