Harry Wilson's superb free-kick gives Wales win over Republic of Ireland

Nations League Harry Wilson's superb free-kick gives Wales win over Republic of Ireland
• Nations League: Republic of Ireland 0-1 Wales
• Wilson 58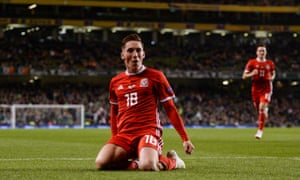 With a goal that would have made the absent Gareth Bale proud, Harry Wilson earned Wales a victory that sent them to the top of their Nations League group and condemned the Republic of Ireland to bottom place. Wilson's beautiful free-kick lit up an otherwise gruelling spectacle and intensified pressure on the Ireland manager, Martin O'Neill.
The two managers had promised to be bold in their approach. Ryan Giggs's lineup backed up his words. The Wales manager gave first international starts to a couple of teenagers, Leeds's Tyler Roberts leading the attack while the 18-year-old Matt Smith began in midfield. The experienced Sam Vokes and Andy King would have been safer options in the absence of Bale and Aaron Ramsey but Giggs put his confidence in youth as part of a plan to use speed and movement to pull Ireland apart, much as his team did when beating Ireland 4-1 in Cardiff last month.
Republic of Ireland v Wales: Nations League â€" live! Read more
That embarrassment forced O'Neill into a rethink and he began with his recently introduced back-three. He, too, put faith in a pair of rookies, with Preston's Callum Robinson and Millwall's Aiden O'Brien included as part of an attempt to give the Irish more of an attacking threat. Shane Long, not fully fit and without an international goal in two years, dropped to the bench.
While Ireland needed a win to keep alive their hopes of finishing top of the group, their supporters' most urgent demand was for a coherent and ambitious performance, the like of which Ireland had failed to produce during a record of one win in the past year. That many seats were empty despite the availability of free tickets for the match indicated Ireland was not exactly awash with optimism. O'Neill said he instructed his players before kick-off to "show the crowd you can play, take the game by the scruff of the neck".
Robinson twinkled from the outset but it took clumsiness from the visitors to create the game's first chance, with Smith miscontrolling at the edge of his box as Wales tried to play out from the back. Christie pounced on the error and sent a curling shot towards the bottom corner but Wayne Hennessey dived to push it around the post.
Soon afterwards, a mistake by Shane Duffy almost presented Wales with a chance but the referee gave Ireland a reprieve by whistling for a far-from-obvious infringement by Tom Lawrence.
For most of the first half, the ball drifted to and fro like a plastic bag in a fickle breeze. Wales passed a li ttle more tidily than the hosts but never incisively. David Brooks hinted at penetrative dribbling ability down the right but was unable to do more than that. One could at least see what the visitors were trying to do. Ireland's plan could just about be discerned, too.
But mostly what was apparent was that this was a second-rate match, with injuries to both sides meaning half the participants are more commonly seen in the Championship. Players made errors that could not be blamed on management.
Kevin Long forced a save from Hennessey with a header from a corner in the 37th minute. It would barely have warranted a mention if anything else had happened.
West Ham suspend coach who went on Democratic Football Lads Alliance march Read more
Wilson glided past two players in midfield in the 48th minute before his run was curtailed by a slapdash tackle that earned James McClean a booking.
That was pardonable compared to the laughable challenge ma de by Harry Arter in the 56th minute, when he raised his leg while sliding across the grass, thereby missing the ball and clunking into Conor Roberts at the corner of the Irish box.
Any Irish fans thankful that Bale was not around to take the free-kick had forgotten about the masterpiece produced by Wilson for Derby at Old Trafford last month. He served up another here, dispatching the free-kick into the top-right corner past a mystified Darren Randolph.
Ireland tried to brew up a storm but Wales showed more poise and skill and would have won more emphatically if Lawrence and James Chester had taken chances.
Topics
Republic of Ireland
Wales
match reports
Share on Facebook
Share on Twitter
Share via Email
Share on LinkedIn
Share on Pinterest
Share on Google+
Share on WhatsApp
Share on Messenger
Source:
Google News Ireland
|
Netizen 24 Ireland