I'm an ex-Northern Ireland secretary. The border must not block Brexit

Opinion Brexit I'm an ex-Northern Ireland secretary. The border must not block Brexit Owen Paterson Theresa May's Chequers proposal is badly flawed. We shouldn't be afraid to free ourselves fully from EU control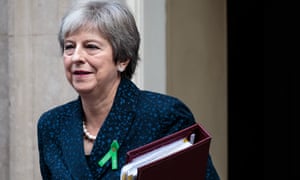 The prime minister may not have mentioned the Chequers agreement by name during her speech at the Conservative party conference, but her approach remains the same: securing "frictionless trade" with the Europea n Union, at the incredibly high price of keeping the UK as a permanent rule-taker, unable to repeal or amend EU laws.
Chequers, the proposal for a Brexit deal agreed within cabinet in July, states that the UK "should be consulted" as EU rules are changed. But a sovereign state merely being "consulted" on rules imposed upon it â€" which may be contrary to its best interests â€" is not taking back control.
The prime minister's justification for this is that it can maintain the "seamless border" between Northern Ireland and the Republic of Ireland, which "no simple free trade agreement could achieve … not even one that makes use of the very latest technology".
DUP: EU Irish border claim is 'astonishing confidence trick' Read more
This ignores the fact that there is already a border â€" for tax, currency, excise and security â€" that is managed seamlessly with existing technical and administrative procedures. It's clear that many people have an outdated vision of borders â€" some still seem to imagine customs posts manned by officers in tricorn hats and knee breeches, lowering striped poles to stop stagecoaches, inspecting barrels of brandy with wooden ladles.
Modern borders are tax points, not inspection points. World Trade Organization rules do not require checks at the physical border. The UK inspects 4% of imports, and the Republic of Ireland only 1%. Sanitary and phytosanitary checks â€" which EU law requires "in the immediate vicinity of the point of entry" â€" can occur considerable distances from the border. In Rotterdam, for instance, posts are located up to 20km from the docks themselves.
Even the EU's chief negotiator, Michel Barnier, is "convinced that it is possible to carry out the kind of checks we need without creating a physical frontier". Under his unacceptable proposals, there would be extensive controls between Northern Ireland and the rest of Britain. B ut if he believes the integrity of the single market can be guaranteed with checks set back from the British/Northern Ireland border, then the same principle can surely be applied to the border between Northern Ireland and the Republic of Ireland.
As well as being a clear breach of the Good Friday agreement's principle of consent, Barnier's proposals are not in Northern Ireland's economic interests. Less than 5% of Northern Ireland sales are with the Republic of Ireland, compared to 20% with Britain.
It simply would not, therefore, make sense for Northern Ireland to introduce frictions with the UK internal market. Equally absurd is the idea that the whole of the UK should, in effect, remain in the single market and the customs union to "solve" the problem. Were this to form the "backstop" agreement, it would remove all incentive for the EU to negotiate any further. Once agreed, even on a temporary basis, the EU would have absolutely no need ever to chang e it.
Northern Ireland's sales to the Republic of Ireland account for less than 0.2% of the United Kingdom's GDP. In order to facilitate that tiny fraction, it would be ridiculous to forgo our ability to reduce tariffs and strike new trade deals around the world, when the IMF predicts that 90% of global economic growth will be outside Europe in the next decade.
"Solutions" of that type are not necessary. Cross-border trade is characterised by regular, repetitive crossings of goods, often on the same routes in the same trucks, with little third-country traffic. The agri-food sector is particularly important; just under half of the cross-border manufacturing trade is accounted for by food, beverages and tobacco. Around a third of Northern Ireland's milk heads south for processing every day. Some 13,000 border crossings are made annually purely for the production of Guinness and more than 18,000 for Baileys Irish Cream.
Consequently, much cross-border tra de is suited to technical solutions and simplified customs procedures already available in the union customs code, including trusted trader-type status. Additional declarations can be incorporated into the existing system for VAT returns, including for small traders. Licensed customs brokers can be engaged to support businesses in dealing with their obligations.
The EU's stated concern is that goods could enter the single market through the border without being compliant with EU standards. Exporters to any market must comply with that market's rules, but, according to the European Research Group's recent paper, any threats to the integrity of the single market can be resolved within the current legal frameworks of the EU and the UK. There is no need for new physical infrastructure at the border and no reason to hold up a free trade agreement.
Fraud or smuggling can be addressed by effective co-operation by authorities on both sides of the border â€" who already c o-operate to tackle smuggling of drugs, cigarettes, fuel and alcohol â€" without suggesting that border checks would make their efforts more effective. If a "hardening" of the border would not address illegal activities, how can it be necessary to ensure compliance by law-abiding citizens and companies?
With little time for the negotiations remaining, the prime minister must chuck Chequers for its failure to deliver the largest democratic mandate in British history. And by taking a realistic view of existing technical and administrative measures for border procedures, she can take up last week's offer from European council president Donald Tusk, and concentrate on delivering a comprehensive, mutually respectful free trade agreement.
• Owen Paterson is a Conservative MP and a former secretary of state for Northern Ireland and Defra
Topics
Ireland
Northern Ireland
There sa May
Michel Barnier
European Union
comment
Share on Facebook
Share on Twitter
Share via Email
Share on LinkedIn
Share on Pinterest
Share on Google+
Share on WhatsApp
Share on Messenger
Source:
Google News Ireland
|
Netizen 24 Ireland