Northern Ireland: Tory MPs urge Theresa May to ditch unsolved killings probe

UK Politics UK Politics Northern Ireland: Tory MPs urge Theresa May to ditch unsolved killings probe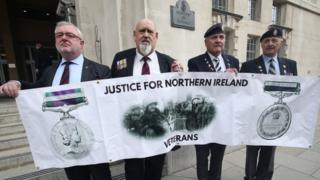 Theresa Ma y is facing demands from 150 Tory MPs and peers to drop plans to investigate past crimes in Northern Ireland and other military conflicts.
In a letter to the PM, they say a new Historical Investigations Unit would put "service and security personnel at an exceptional disadvantage".
And they accuse the government of breaking the Armed Forces Covenant - its manifesto commitment to personnel.
The Northern Ireland Office declined a request for comment.
Proposals for a Historical Investigations Unit were part of the 2014 Stormont House agreement and designed to deal with killings where there had been no prosecutions.
Last year, the Police Service of Northern Ireland (PSNI) said that investigations into killings by the Army account for about 30% of its Troubles legacy workload.
But concerns have been building in Westminster over whether military veterans have enough protection from unfair prosecutions, with some cases going ba ck decades.
Row over Troubles probe adds to pressures on May
Cabinet 'spat' over NI killings probe
'Prioritise victims over investigations'
Legacy cases 'bias' disputed by figures
Wednesday's letter is signed by many former veterans, who are now MPs - including Johnny Mercer, Mark Francois and Richard Benyon - and former heads of the military including Lord Dannatt.
The new unit is meant to take over the work of the Historical Enquiries Team and legacy work of Northern Ireland's police ombudsman that remains outstanding.
But the Tory MPs and peers say the existing system is "completely at odds" with the government's commitment to the armed forces - and the proposal for a new unit would put "service and security personnel at an exceptional disadvantage".
The Ministry of Defence and the Northern Ireland Office have clashed over the plans in recent m onths and a consultation recently finished.
Now Attorney General Geoffrey Cox is understood to be looking at ways of limiting the likelihood of unfair prosecutions.
Cabinet sources have told the BBC that one proposal under consideration would be for potential prosecutions of former service personnel to require consent from the attorney general before taking place.
There are concerns in government however about politicising the process in that way and about interfering in devolved legal matters.
Defence Secretary Gavin Williamson said: "I don't want to see elderly veterans having to face repeated investigations decades after the eve nts in question. The Northern Ireland Office recently closed a consultation on legacy cases like this and will report soon.
"The Ministry of Defence has put in place a comprehensive package of support, including legal representation to any individual accused of an offence arising from their service on operations. A new team has also been created to consider the concerns of veterans and the wider public in order to find appropriate solutions."
A statement issued on behalf of the attorney general said: "As a matter of convention, known as the Law Officers Convention, we do not disclose whether or not the attorney general or any of the law officers have given law advice or been asked for it."
Top Stories
US meets Saudi prince despite criticism
The US treasury chief's meeting in Riyadh comes amid an outcry over the murder of Jamal Khashoggi.
23 October 2018
China opens longest sea-crossing bridge 23 October 2018 US to build up nuclear arsenal - Trump 22 October 2018
Features
'Feminism is sexist': The women backing Brazil's Bolsonaro
Video
Celebrations and sickness - on the road with migrants in Mexico
Images of autumn around the world
Video
Can a girl from the Bronx be a K-pop star?
The places where too many are fat and too many are thin
Why did this lioness kill her male partner?
Pastor's televised rape trial shocks South Africa
BBC Travel: What we can le arn from Japan about imperfection
How a food crisis led to Delhi's foul smog
Elsewhere on the BBC
Football phrases
15 sayings from around the world

Full article Football phrases Why you can trust BBC News
BBC News Services
On your mobile
On your connected tv
Get news alerts
Contact BBC News
Source: Google News Ireland | Netizen 24 Ireland