Irish celebrities urge PM to protect citizens' rights in Northern Ireland

Ireland Irish celebrities urge PM to protect citizens' rights in Northern Ireland
Open letter asks Leo Varadkar to address concerns over Brexit and Stormont deadlock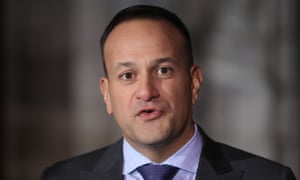 More than 1,000 Irish academics, film-makers, lawyers, writers, athletes, business owners and others have signed an open letter to the taoiseach, Leo Varadkar, asking him to protect the rights of Irish citiz ens in Northern Ireland.
The letter, published in Monday's Irish News newspaper, urges the Irish prime minister to address their "grave concern" that Brexit and Northern Ireland's political deadlock will deny and erode nationalists' rights on issues such as the Irish language, marriage equality and healthcare.
The region's power-sharing executive at Stormont imploded in January 2017, depriving it of a fully functioning elected government during negotiations about the impact on the Irish border of the UK's withdrawal from the European Union.
Brexit: Irish PM tells May UK won't be allowed unilateral opt-out from Irish backstop - Politics live Read more
The direct appeal to the government in Dublin reflects anxiety that the Democratic Unionist party's (DUP) influence over Theresa May's Conservative minority government in London, combined with Sinn Féin's abstention from Westminster, has left nationalists politically vulnerab le and voiceless as Brexit talks reach their climax.
"The political institutions remain in suspension as political unionism continues to deny respect for our Irish identity and language, marriage equality, access to justice for legacy matters," says the letter, in English and Gaelic.
"As you know, these rights are now taken for granted by citizens in other parts of these islands. The British Conservative government has rendered itself unable to effect any progress on these rights issues due to its dependence on the DUP. Brexit threatens to deepen the rights crisis and there is a real danger of serious erosion of current guarantees."
Niall Murphy, a prominent Belfast solicitor, helped to organise the letter. Signatories include the film director Jim Sheridan, the actor Adrian Dunbar, the footballer James McClean and trade union leaders.
The letter reminded Varadkar of a commitment he gave in December 2017 to protect the interests and rights of nort hern nationalists as Irish and EU citizens. "There will be no hard border on our island. You will never again be left behind by an Irish government," the taoiseach said then, partly in response to an earlier open letter signed by 200 people.
In an interview at the weekend, Varadkar said Brexit had undermined the 1998 Good Friday agreement that brought peace to Northern Ireland and had frayed relations between Britain and Ireland.
In the 2016 EU referendum, 56% of voters in Northern Ireland opted for remaining in the EU. However, most DUP voters back their party's support for withdrawal, which will remove one of the pillars of the Good Friday agreement.
The Dublin government has to tried to walk a tightrope of reassuring northern nationalists without riling unionists. The DUP and senior loyalist paramilitaries have accused Dublin of "Brit-bashing" and using the spectre of IRA violence as a bargaining tool.
Topics
Northern Ireland
Brexit
Northern Irish politics
European Union
Europe
news
Share on Facebook
Share on Twitter
Share via Email
Share on LinkedIn
Share on Pinterest
Share on Google+
Share on WhatsApp
Share on Messenger
Source:
Google News Ireland
|
Netizen 24 Ireland